Enhancing business processes and leveraging technology to further advance management of operational risk
NEW GENERATION OPERATIONAL RISK EUROPE
8th Annual | 14-15 March | London
PEOPLE RISK
Managing people/human capital risks alongside the pace of change
RISK INTERPLAY
Reviewing the interplay of non-financial risks within risk silos and gaining a holistic view
CONSUMER DUTY
Understanding the requirements for implementation of the FCA's new consumer duty obligation
 CULTURE
Developing measurement techniques to ensure alignment of risk culture and organizational culture
GEOPOLITICAL RISK
Determining operational risks amidst increased geopolitical uncertainty
AI AND ML
Identifying use cases and understanding outputs
TECHNOLOGY
Managing the changing pace of technology in order to keep ahead of customer expectations
RESILIENCE
Implementing and viewing resilience holistically within an operational risk framework
Sean Titley
Director of Enterprise and Operational Risk
Metro Bank
Ameet Jugnauth
Cyber Governance and Risk Director
Capital One
Michael Grimwade
MD, Operational Risk
ICBC Standard Bank
Stefana Brown
CRO, UK Protection & Fintech & IT and Data Protection Risk Director
Legal & General
Ian Phoenix
Director of Intelligence & Digital Data, Technology, & Innovation Directorate
FCA
Javier Martinez
BoI Group Head of Operational Resilience
Bank of Ireland
Sucharita Banerjee Lodha
Head of ERM Operations, Governance and Reporting
AIG
Prash Patel
MD, Head of Operational Risk CIB
Barclays Bank
Hazel Diez Castaño
Global Head of Cyber GRC & CISO Central Services
Banco Santander
Keith Davies
Group Chief Risk & Compliance Officer
Admiral PLC
CAN YOUR ORGANIZATION CONTRIBUTE?
Please contact the Center for Financial Professionals today to discuss how we can deliver your thought-leadership at the event, help you generate leads, and provide you with unique networking and branding opportunities. For more information on what we can offer, please contact chris.simou@cefpro.com or call us on +44 (0) 20 7164 6582 where a member of the team will be happy to tailor the right package for you.
.
8:00 Registration and breakfast
8:50 Chair's opening remarks
RESILIENCE – PANEL DISCUSSION
9:00 Implementing resilience within an operational risk framework to view risk holistically
Session details 
Bringing impact tolerances alongside risk management
Condensing for senior management and the board to understand
Addressing and prioritizing risks and remediating
Removing fragmentation and siloed nature of managing risk
Managing jurisdictional disparities
PRA regulatory requirements for operational resilience
Complying with the European Digital Operational Resilience Act (DORA)
Remediating resilience vulnerabilities identified
Lee Webb, Group Head of Operational Resilience, Aviva
 Javier Martinez, BoI Group Head of Operational Resilience, Bank of Ireland
 Chika Okoli, GRC Technology Manager EMEA, SAI360
Ameet Jugnauth, Cyber Governance and Risk Director, Capital One
SUPPLY CHAIN
9:50 Managing growing supply chain complexity and applying security frameworks to mitigate disruption
Session details 
Developing point in time assurance processes
Reaction time after a notification and assessment of risk
Inclusion operational resilience requirements

Identifying important business services and tolerances

Managing supply chain concentration
Exiting markets as a result of geopolitical tension

Identifying supply chain exposure

Reviewing Covid as the catalyst for global supply chain issues
Reviewing how cyber-attacks can and have disrupted supply chains
Hazel Diez Castaño, Global Head of Cyber GRC & CISO Central Services, Banco Santander
10:25 Morning refreshment break and networking
GEOPOLITICAL RISK – PANEL DISCUSSION
10:55 Monitoring sequences of events to determine operational risks amidst increased geopolitical uncertainty
Session details 
Interconnected nature of political risks: Interaction with supplier and cyber risks
Exit planning across certain jurisdictions
Managing continued economic shocks

Brexit, Covid-19, Russia/Ukraine conflict, energy crisis etc…

Developing meaningful scenario analysis capabilities
Managing political instability globally

Externally and within UK politics

Impact of energy crisis on consumer behaviour
Viewing geopolitical risk as a driver of operational risk
Ensuring sufficient controls are in place to combat geopolitical risks
Prash Patel, MD, Head of Operational Risk CIB, Barclays Bank
Sean Titley, Director of Enterprise and Operational Risk, Metro Bank 
Merlin Linehan, Risk Manager, EBRD

CLOUD
11:45 Managing risks migrating to cloud and infrastructure changes to leverage service
Session details 
Communicating risk to the board
Enhancing agility to update technology infrastructure
Consequences of errors in a cloud environment
Understanding the size and capability shift with migrating to cloud
Ensuring the security controls and frameworks extends to cloud providers
Introduction of European Union Cybersecurity Certification Scheme on Cloud Services (EUCS)
Increased regulatory requirements when working with cloud providers
Ensuring necessary workforce to manage the change to cloud
 Ecem Karaman, Vice President, Cybersecurity, JPMorgan Chase & Co.
12:20 Lunch break and networking
EU DORA
1:20 Exploring EU DORA in the context of broad cyber resilience
Session details 
Discussing the origin of DORA and a look at similar mandates in Europe
Addressing the tension between DORA and Open Banking
Evaluating if DORA compliance equals cyber resilience
Outlining how GRC technology places DORA in the context of broad cyber resilience
 Chika Okoli, GRC Technology Manager EMEA, SAI360
DATA
1:55 Leveraging data across operational risk to identify emerging risks and achieve strategic business goals
Session details 
Interpretation and analysis of data

Leveraging to inform business decisions

Maintaining data integrity: Ensuring sources are accurate, reliable, sustainable and repeatable
Assessing the use of increased personal data organizations have access to
Using different systems to store data
Ensuring the correct tools and capabilities to manage data
Data risk from technology transformation
Increased regulatory scrutiny and fine potential.
Maintaining security and control over data
Ian Phoenix, Director of Intelligence & Digital Data, Technology, & Innovation Directorate, FCA
TECHNOLOGY – PANEL DISCUSSION
2:30 Managing the changing pace of technology and staying ahead of customer expectations
Session details 
Movement towards enterprise adoption of DLT
Automating decision making
Recruiting and retaining risk technology talent
Managing the constant changing pace of technology
Assessing the correct approach to adopting new technologies
Increased use of automation and the threats it is susceptible to
Strategizing against cyber risk during digital transformation
Importance of technological changes to enhance service provided
Importance of building out control level when enhancing technology
 Stefana Brown, CRO, UK Protection & Fintech & IT and Data Protection Risk Director, Legal & General
 Shabbir B Tahasildar, Divisional Risk Specialist, Head of Technology Risk, Handelsbanken plc. (UK)
FINANCIAL CRIME
3:20 Reviewing how the current climate could influence rates of fraud and financial crime
Session details 
Assessing how geopolitical actions are impacting the level of financial crime
Ensuring the right controls are in place to keep up with ever increasing challenge of sanctions
Mitigation measurements put in place against the heightened fraud landscape
Anticipating how new sanctions can impact your business model
Addressing the potential increase of insider threat / internal fraud
Reviewing the unexplored operational and cyber risks of digital assets
Managing increasing global sanctions environment
Impact of sanctions on operational model
Understanding impact of changes on business model.
3:55 Afternoon refreshment break and networking
AI & MACHINE LEARNING
4:25 Identifying use cases for AI and machine learning and understanding outputs
Session details 
Overseeing and controlling decisions
Identification techniques to remove bias
Managing information risk and use of data
Understanding how AI and Machine Learning works
Automating decision making processes
Reviewing processes when technology makes unexpected decisions
Leveraging for pattern analysis to prevent fraud
Operational risks of using AI and Machine Learning
Akash Bajpai, Vice President (Compliance & Risk), Citi
CONSUMER DUTY
5:00 Introduction of the FCA's new consumer duty obligation: Understanding requirements for implementation
Session details 
Assessing what institutions need to do in order to meet consumer duty
Effectively executing and fully implementing plans
Demonstrating full compliance with rules that are effective July 2023
Challenges of adhering to the consumer duty obligation in a downturn environment
Implementing enhanced protections for the customer
Assessing how consumer behavior could impact the industry.
Variations across insurance and banking
 Catherine Levy, former Group Head of Risk Framework, Compliance, HSBC
5:35 Chair's closing remarks
5:45 End of day 1 and networking drinks reception

8:00 Registration and breakfast

8:50 Chair's opening remarks
CHANGE
9:00 Enhancing strategic change management practices to stay ahead of external events
Session details 
Executing change across businesses
Managing operational risks alongside change
Business change in a volatile economic environment
Enhancement of technology in day to day business
Reviewing how geopolitical impacts can change business
Leveraging data to become predictive of future business change
Sean Miles, Head of Operational Risk, Shawbrook Bank
CONTROL FRAMEWORKS
9:35 Adapting control frameworks to reflect continued change in working environments
Session details 
Effectiveness of internal control frameworks
Ensuring control framework is fit for purpose
Impact of hybrid working on control frameworks
Importance of an enhanced controls framework in a digitized environment
Incorporating governance into your framework
Identifying potential weaknesses or gaps in frameworks
Managing recovery, restructure and wind down plan (RRWP)
Evaluating the aftermath of Covid-19 and impact on controls
10:10 Morning refreshment break and networking
CULTURE – PANEL DISCUSSION
10:40 Developing measurement techniques to ensure risk culture and organizational culture align
Session details 
Reviewing the importance of conducting culture and behavior assessments
Reinforcement of a healthy organizational culture for employees to work in
Incorporating diversity across the culture of an institution
Defining behavior and culture of your employees
Raising the profile of risk culture
Building a risk culture dashboard
Implementing behaviour assessments
Lisa McArthur, Head of Conduct, Compliance & Operational Risk Standards and Capability, Lloyds Banking Group
Sucharita Banerjee Lodha, Head of ERM Operations, Governance and Reporting, AIG
Jonny Weare, Head of Conduct, Danske Bank


PEOPLE RISK
11:30 Managing people/human capital risks alongside the pace of change
Session details 
Ensuring teams are healthy, focused and engaged
Managing people alongside the pace of change
Impact of external events on people risk
Aligning pay with the cost of living
Oversight and supervision capabilities
Identifying, attracting and retaining the right skills
Assessing how hybrid working can make it difficult to integrate new employees
Gary Savill, Head of ERM Programme Delivery, Starr Underwriting Agents Limited
ECONOMIC CONDITIONS
12:05 Reviewing the impact of economic volatility on operational risks
Session details 
Why is Operational Risk sensitive to economic shocks?
How will the current economic conditions drive Operational Risk losses?
What actions should Operational Risk managers take now?
Michael Grimwade, MD, Operational Risk, ICBC Standard Bank 
12:40 Lunch break and networking
CYBER CRIME
1:40 Managing cyber risk exposure and increased threat with ongoing global tensions and supply chain reliance
Session details 
Increased risk of supply chain attacks
SolarWinds case study
Increased vulnerability with heighted reliance on third parties
Exploitation of Russia/Ukraine conflict
Educating users on ransomware risks
Managing underlying reputation risks
Alignment with resilience and impact tolerances
Management after a cyber event

Lessons learned and recovery

Educating employees and customers on cyberattacks.
Ensuring there is sufficient cyber security controls and capabilities
CLIMATE CHANGE – PANEL DISCUSSION
2:15 Reviewing the increased focus on climate change and reflecting within operational risk
Session details 
Managing range of climate change scenarios

Transmission of climate change scenarios into operational risk scenarios

Availability of data
Impact of climate change on reputation of banks
Importance of climate risk assessments to avoid operational risks
Reviewing physical and transition risks
Ensuring climate risk is prioritized alongside other operational risks
Importance of keeping up with the pace of change in climate risk
Increased regulatory focus on climate risk from the ECB
Phil Cliff, Head of Climate, M&G
Anit Deb, Divisional Control Office Investment Bank, Deutsche Bank
Vasiliki Basiou, VP, NFR Climate Change and Regulatory Initiatives, Credit Suisse
3:05 Afternoon refreshment break and networking
RISK INTERPLAY – PANEL DISCUSSION
3:35 Reviewing the interplay of non-financial risks within other risk silos and gaining a holistic view
Session details 
Increased complexity of interplay of risks
Identifying connections across risks and events
Understanding true exposure and connection
Enhancing decision making and efficiency
Comparing the drivers and consequences of different risks
Re-aligning culture to better asses risk holistically
Keith Davies, Group Chief Risk & Compliance Officer, Admiral PLC
Adrian Furniss, Head of Risk, Conduct Compliance & Operational Risk, Lloyds Banking Group
NFR FRAMEWORKS
4:25 Auditing non financial risk frameworks from a 3rd line of defence perspective
Session details 
Best practice for auditing Non-Financial Risk Frameworks from both 1LOD and 2LOD
Effectively using data and analytics to support a testing approach
Focus on testing to apply a horizontal and vertical lens to identify common read-across themes
Increasing importance on independent review and challenge provided by Risk SMEs in 2LOD
Assessing adequacy and effectiveness of the what and how elements in the design of Non-Financial Risk Framework's
Sanjeev Tuli, Regional Head of Global Operational Risk Audit, HSBC
5:00 Chair's closing remarks
5:10 End of Summit
Akash Bajpai
Vice President (Compliance & Risk)
Citi
Sucharita Banerjee Lodha
Head of ERM Operations, Governance and Reporting
AIG
Vasiliki Basiou
VP, NFR Climate Change and Regulatory Initiatives
Credit Suisse
Biography
Analytically minded self-starter, Akash has expertise in formulating, designing, and managing data-driven projects geared at furthering business interests. He is adept at understanding the existing landscape and delivering innovative and cutting-edge AI and machine learning to the enterprise. In his previous roles, he has generated business value through artificial intelligence for corporate clients as well as start-ups. He holds a US patent for proposing a unique solution to shrinkage in the retail industry. He has authored research papers and many articles on the current challenges in the industry.
Biography
Sucharita Banerjee Lodha is the Head of General Insurance International Operational Risk and Governance, ERM . She has held various operational risk management positions within GI International supporting effective roll out of operational risk management tools and concepts within Claims, Finance, Operations and shared service centres. She has led teams across Business Consulting, Outsourcing Risk management, Offshore Development Centers, Technology and Risk Management. She has a proven track record of managing global teams and leading regulatory change initiatives. Sucharita holds an MBA from London Business School and an MS in Quality Management from Birla Institute of technology. She is also a six sigma Black belt and has a B.tech in Information Technology. She chose non-financial risk management as a career to pursue her passion for healthy risk culture in organizations. She has worked with Deloitte, American Express, Tata Consultancy Services in her professional career. She has worked with consulting and Financial services firms in India, the US and is currently based in London, UK.  Sucharita is also the chair of Gender Equality Matters Employee resource group in AIG.
Biography
Vasiliki Basiou is a VP with 7+ years of experience in Operational Risk Capital Modelling at Credit Suisse, where she is currently leading the climate-related efforts within the Operational Risk Management (ORM) group. Before that, she was the Global OpRisk capital models manager, managing the quant team responsible for regulatory and internal capital models across the bank within the ORM department. Vasiliki holds a bachelor's degree in Accounting and Finance from Athens University of Economics & Business and a M.S. in Financial Risk Management from University College of London (UCL). She recently acquired the Certificate in ESG investing from the CFA Institute as per her interest in climate risk management and overall ESG.
Stefana Brown
CRO, UK Protection & Fintech & IT and Data Protection Risk Director
Legal & General
Phil Cliff
Head of Climate
M&G
Keith Davies
Group Chief Risk & Compliance Officer
Admiral PLC
Biography
Stefana is the recently appointed CRO for L&G Protection and Fintech, she also has wider responsibility for IT and Data Risk across L&G's Retail division (of which Protection is part of). Stefana is an experienced Risk Professional with over 18 years in the financial services industry (15 in risk). She has worked for organisations across the financial services industry, which has given her a broad exposure to banking, asset management and more recently insurance. Stefana is passionate about delivering diversity and inclusion in the workplace, and creating opportunities for others to realise their full potential.
Biography
Phil is co-chair of the CFRF (FCA) project to develop best practice in scenario modelling for asset managers. He devised and led the climate transition plan for M&G Investments including: joining NZAMi as a founder member (Dec 2020); portfolio emissions reduction targets; setting the Thermal coal transition plan; Portfolio manager Toolsets supporting the Net Zero Investment framework; the climate risk scenario modelling; the CBES stress test as an SME; and evidencing the plan in the latest M&G Plc sustainability report.
Biography
Keith is currently Group Chief Risk and Compliance Officer (CRCO) of Admiral Group Plc, having previously been a Non-Executive Director and Chair of the Risk & Audit Committee for two entities within the Admiral Group.
He has extensive experience in risk management and governance, having worked in insurance, asset management and banking for 25 years. Prior to joining Admiral,  Keith was previously CRCO at Federated Hermes Limited – the fund management company that has been at the forefront of sustainability investing and global stewardship since 1983. Before that, Keith held a number of senior roles at Prudential and M&G Plc (M&G) – being the first Chief Risk Officer at M&G having helped the company de-merge from Prudential Plc. He was previously Group-wide Chief Internal Audit Executive for all Prudential's insurance and asset management companies. He has also held senior roles in risk management and audit at Standard Chartered and Deutsche Bank and spent two years within the Policy team at the Financial Services Authority. In addition to his NED role at Admiral, Keith is also a Trustee for the International House Trust Charity and on the Risk and Audit Committee at Glamorgan CCC and can therefore give a perspective of governance from both an Executive and independent viewpoint. Keith has a degree in Economics from Cambridge University and an MSc in Economics and Econometrics from the University of Bristol, has certifications on ESG Investing and Sustainability & Climate Risk, and helped write the ESG Investment Handbook.
Hazel Diez Castano
Global Head of Cyber GRC & CISO Central Services
Banco Santander
Anit Deb
Divisional Control Office Investment Bank
Deutsche Bank
Adrian Furniss
Head of Risk, Conduct Compliance & Operational Risk
Lloyds Banking Group
Biography
Anit is with the Divisional Control Office in the Investment Bank. Prior to that he spent several years in the Non-Financial Risk department on framework topics.
Biography
Adrian is a Head of Risk in the Conduct, Compliance and Operational risk division at Lloyds Banking Group. He's spent 17 years working across different roles in the firm, the last five of which have been leading 2nd line risk functions looking at Payments, Technology, Transformation, Data, Governance and Planning. He's driven by a desire to help tackle the challenges faced by financial services firms' now and in the future especially related to societal change, new technology and sustainability
Michael Grimwade
MD, Operational Risk
ICBC Standard Bank
Ameet Jugnauth
Cyber Governance and Risk Director
Capital One
Ecem Karaman
Vice President, Cybersecurity
JPMorgan Chase & Co.
Biography
Michael Grimwade first worked in Operational Risk Management over 25 years ago. He is Head of Operational Risk for ICBC Standard Bank and has previously held senior Op Risk management roles at MUFG Securities, RBS and Lloyds TSB. Michael has also been a Director of the Institute of Operational Risk, and is currently the Chair of the AFB's Operational Risk Expert Panel. He is the author of a number of articles on Op Risk regarding setting appetite; scenario analysis; Climate Change; quantifying emerging risks; and modelling capital. His second book, "Ten Laws of Operational Risk", was published in December 2021.
Biography
Ameet Jugnauth is an experienced Cyber and Technology leader within the Financial Services sector. With over 15 years of experience across insurance and banking, Ameet has led global information security initiatives, large scale risk and control transformation programmes and recently led risk oversight for strategic transformation at a large banking group. Ameet joined Capital One in 2022 as the Cyber Governance and Risk Director, responsible for third party management, cyber risk and compliance, developing thought leadership across both UK and US teams. Appearing at events regularly in the UK and Europe, he shares his insights into resilience best practices, innovation and is a strong advocate for diversity and inclusion as a lever to organisational success.
Biography
Ecem Karaman is a Cybersecurity Vice President at JPMorgan. She has extensive background in
Cloud, SIEM Operations, Active Directory, Office 365, Compromise Recovery and Incident
Response as well as M&A Assessments, through her previous work experience across multiple
continents. Ecem is currently responsible for SIEM Operations and Cloud Security at JPMorgan.
She is playing a crucial role in implementing the multi-cloud strategy across the firm. She's an
advocate for diversity & inclusion at work and is heavily involved in initiatives supporting women
in tech
Catherine Levy
former Group Head of Risk Framework, Compliance
HSBC
Merlin Linehan
Risk Manager
EBRD
Javier Martinez
BoI Group Head of Operational Resilience
Bank of Ireland
Biography
Catherine has worked within financial services for over 37 years with nearly 19 year's experience in Compliance and Risk. She is the former Group Head of Compliance Risk Framework for HSBC a Chartered FCSI and is the current Chair of the Chartered Institute of Securities and Investments Compliance Forum.
Catherine has held senior compliance and risk management roles across a number of global financial services firms including Citigroup, Lloyds Banking Group, RBS and for the last 8 years at HSBC. She has extensive experience leading regulatory and operational risk change programmes, all areas of Compliance risk including the development of monitoring methodologies and functions, managing relationships with regulators both UK and Internationally and has a keen interest in the development and usage of data for managing compliance risk.
Biography
Merlin Linehan is a Risk Manager at the European Bank for Reconstruction & Development (EBRD), working across Crisis management and business resilience. Merlin has supported the Bank through a number of major geopolitical and IT events including Covid, Ukraine and Log4j. Merlin is also a regular contributor to publications such as Frontera, PRMIA and Risk Screen and others covering geopolitics, risk and technology. He has also appeared in various media outlets including the FT, BBC and Global Capital commenting on China's global role and emerging markets
Biography
Javier is the Group Head of Operational Resilience at the Bank of Ireland. He has over 20 years of experience in the financial sector including Risk Management, Finance and IT. 
Prior to Bank of Ireland, Javier worked at different banks including Morgan Stanley, Deutsche Bank, Nomura and, most recently, at the Bank of England where he was the Head of Operational Risk and Resilience for UKDT.
Lisa McArthur
Head of Conduct, Compliance & Operational Risk Standards and Capability
Lloyds Banking Group
Sean Miles
Head of Operational Risk
Shawbrook Bank
Chika Okoli
GRC Technology Manager EMEA
SAI360
Biography
Lisa has been with Lloyds Banking Group for 22 years, working across a range of business disciplines in that time. She spent 15 years in various 1LOD risk roles, building a breadth of capability from experiences such as Bank of Scotland's exit from Ireland, LBG's regulatory ring-fence programme and the stand-up of LBCM (Non-ring-fence bank) 1LOD risk function.  Since joining Conduct Compliance & Operational Risk in 2019, Lisa has led several non-financial risk strategic initiatives, together with work to strengthen risk culture and capability Group-wide. Lisa lives in Musselburgh with her husband, David and their two sons.
Biography
Sean is currently the Head of Operational Risk at Shawbrook Bank; having previously held senior risk roles at Barclays, Santander and Pay.UK Sean is responsible for the development and maintenance of the Bank's Operational Risk Framework including Third Party Risk Management, Stress testing, ICAAP process as well as developing associated policies and procedures. Sean is driving data-driven risk assessment, taking an intelligence driven approach to change risk management
Primary Industry: Banking, Payments
CeFPro Advisory Board Member
Biography
Chika helps organisations to address GRC mandates and broader requirements with technology. Drawing on his experience across Fintech, AML/KYC Regtech, TPRM and GRC technology, he is currently preparing financial institutions in EMEA for the upcoming operational resilience legislation and the evolving risk context.Making digital transformation tangible – in part through publications and interviews – has been a constant in Chika's career. As a result, he has been invited to speak at technology missions with the UK Department of Trade in the DACH region to make an even broader case for investing in digital transformation (Made in the UK).
Prash Patel
MD, Head of Operational Risk CIB
Barclays Bank
Ian Phoenix
Director of Intelligence & Digital Data, Technology, & Innovation
FCA
Gary Savill
Head of ERM Programme Delivery
Starr Underwriting Agents Limited
Biography
Financial professional with over 20 years' experience in Investment Banking (IB) Industry. Career started in Audit where I qualified as Chartered Accountant before moving into IB.
Worked across a number of functions covering Finance Product Control, Treasury, Operations and most recently Operational Risk.  With such breath of experience has provided me the ability to critically assess Op Risk across the front to bank processes within banking.
With evolving Operational Risk landscape have been a thought leader in strategically leading team requiring recalibration of skills.
Biography
Ian joined the FCA in the summer of 2021 as Director of the Intelligence & Digital division.  He is helping set up a cross-FCA centre of excellence to ensure the organisation utilises the range of intelligence it receives and to maximise the exploitation of digital opportunities.
Prior to his current role, Ian was most recently Director of Citizens' Health Technology at NHS Digital, helping lead its response to COVID-19. Ian has also worked at the Home Office, overseeing the world's largest migration to Amazon Web Services, as well as transforming immigration platforms at the height of Brexit.
Ian has spent over a decade in National Security with strong expertise in data exploitation, in addition to holding senior technology roles at Visa, Citibank and American Express.
Biography
Gary Savill is Head of ERM Programme Delivery for Starr Insurance  since 2022 working previously in SAGA and AXA UK for 10 years as Head of Operational Risk and as Deputy Head of Operations for Sanlam Investment Management prior to that.  Gary is a Chartered Management Accountant and is also a Specialist member of the IRM and member of the Institute of Management.
Gary has extensive experience of risk management frameworks, people risk, Solvency II, control assurance, risk appetite, conduct risk, risk culture, third party risk oversight and building high performance teams.  He has a particular interest in psychology and decision making.
Shabbir B Tahasildar
Operational Risk Specialist, Head of Technology Risk
Handelsbanken plc. (UK)
Sean Titley
Director of Enterprise and Operational Risk
Metro Bank
Sanjeev Tuli
Regional Head of Global Operational Risk Audit
HSBC
Biography
Shabbir is an Operational Risk Control professional with a blend of Risk management and Digital Transformation experience. He currently leads the second line' oversight of Technology, Information Security Risk and Internal Controls Frameworks at Handesbanken plc and in the past he has worked with KPMG for close to 11 years in their Risk & Control Transformation practices across UK, India and Southern Africa. He is passionate about simplifying risk management and actively champions use of technology to enhance risk processes within the organisation using GRC and advanced technologies. Shabbir is an IT Engineer by qualification and holds professional certifications Certified in Operational Risk Management (CORM), Certified Information Systems Auditor (CISA), ISO 27001, Privacy Lead Auditor and PRINCE2 professional.
Biography
Sean has over 25 years of experience in Risk Management across disciplines, including Enterprise Risk, Operational Risk, Credit Risk, Strategic Risk and Front Office Supervision. He is a passionate advocate for the furtherance of Operational Risk as a discipline, co-authoring papers and acting as a speaker and panellist at many external events.
Sean has held Director level roles at a number of organisations, both on a consultancy and permanent basis. He is currently Director of Enterprise and Operational Risk at Metro Bank, running a growing team responsible for the Bank's overall risk management framework and approach to Operational Risk from a second line perspective. This includes liaison with the PRA and FCA and making ongoing enhancements to the Bank's approach to risk appetite, governance and embedding a strong risk culture across the three lines of defence. Sean has been integral to a transformation in the Bank's approach, including putting in place a new Risk Taxonomy, Bank Risk Report, approach to RCSA, Control Testing, Operational Risk losses and Scenario Analysis as well as setting up a new Operational Risk Oversight Committee, which he chairs. His team is working closely with the first line on approaches to Operational Resilience, Third Party Risk Management and the management of People, Change, Data, Information Security and Technology Risks.
Sean is a member of the Institute of Operational Risk/IRM Operational Risk Committee, providing advice on its approach to Operational Risk and running the IOR's Chapters across the globe.
Biography
Sanjeev is a commercially focused risk and finance leadership professional, with broad experience across Retail and Wholesale businesses.  A delivery focused high-performing senior risk management professional with broad experience gained across Internal Audit and Non-Financial and Financial Risks.  Proven expertise includes;
Representing Group Internal Audit on key divisional and Group Governance Forums including Risk and Control Committees.
Simplifying enterprise-wide and operational risk management to ensure business areas utilise risk management tools to manage both Financial Risk and Non-Financial risk profiles within Appetite.
Demonstrating proactivity and adaptability in challenging and evolving regulatory requirements in delivering and auditing Global Non-Financial Risk Programmes of work across multiple entities/locations across Group-wide Tier 1 Banks.
Jonny Weare
Head of Conduct
Danske Bank

Lee Webb
Group Head of Operational Resilience
Aviva
Biography
Jonny Weare is a leader in conduct, culture and compliance with experience across transformation initiatives, in providing advice and challenge to business, compliance oversight and the effective leadership of second line compliance teams. Having designed and implemented governance frameworks at the Group level including for both Board and Executive Management teams, he has developed capabilities for regulatory compliance and change, conduct and culture, and reporting for effective governance and decision-making. He advises and support businesses in navigating good outcomes and in building capabilities and culture to manage and solve complex governance, risk and compliance issues.
Biography
Lee has over 20 years' experience in business continuity recovery and resilience and is currently Group Head of Operational Resilience at Aviva Plc. Before recently joining Aviva Plc, Lee held several recovery and resilience roles at Barclays Bank Plc which, for 15 years these, ranged from supporting recovery and resilience for UK Banking, leading the global crisis and near miss function and playing a prominent role in the definition and delivery of the global resilience transformation programme. Lee is currently co-Chair of the Operational Resilience Collaboration Group (ORCG).
Lee has also held roles for a number of organisations in both the public and private sector; small independent operations to large multi-national corporations. He spent six years in Hong Kong, as a Director at Credit Suisse, during which time he was responsible for the roll-out of the Asia Pacific segment of a global Business Continuity and Disaster Recovery remediation programme. Prior to moving into Business Continuity and Disaster Recovery Lee worked as a systems auditor and IT security consultant. Lee has previously been a representative on the Prince of Wales Trust Business Emergency Resilience Group (BERG) Leadership Team, Chair of the IBM Resilience Community and Chair of the SunGard AS European Client Advisory Board.
WHY SHOULD YOU ATTEND A CEFPRO CONFERENCE?




HEAR FROM PAST ATTENDEES AND SPEAKERS…
Interactive panel discussions are designed to include attendees by running a live Q&A throughout the session
Hear industry experts provide detailed insights on a range of vendor risk issues, challenges and opportunities
 Networking opportunities including breakfast, lunch and refreshment breaks on both days, access to all streams and sessions.
Continue discussions beyond the auditorium and interact with speakers and attendees after their session.
January 31, 2023
The views and opinions expressed in this article are those of the thought leader as an individual, and are not attributed to CeFPro or any particular
[…]
Biography
As the leading ESG cloud platform connecting GRC, EHS&S and Learning, SAI360 helps organizations across the globe manage risk, create trust, and achieve business resilience with a unified approach to risk management.
Our SAI360 GRC technology empowers our customers to focus on developing the right risk culture through a meaningful and effective combination of cloud-based technology and ethics and compliance learning solutions, including our SAI360 Integrated Risk Management Platform. Together, this powerful approach can do more in a single day than any stand-alone offering.
Our GRC solutions specialise in:
Policy Management
Regulatory Change Management
Enterprise & Operational Risk Management
Internal Control & SOX Compliance
Business Continuity Management
Audit Management
IT Risk & Cybersecurity
Third-Party & Vendor Risk Management
Frameworks, Standards & Regulations
For more information, visit us at www.sai360.com or check out our risk management insights hub at https://www.sai360.com/resources/blog.
Biography
Ideagen help the quiet voices and safe hands that protect organisations to minimise risk, strengthen compliance and keep people safe. We are the name trusted by organisations globally to deliver world-class, innovative software solutions in regulated or high-compliance industries such as aviation, financial services, life sciences, healthcare and manufacturing.
Whether you're a large global corporation or a small to medium business, our solutions and services will help you solve complex quality, health and safety risk, audit and collaboration challenges. Over 11,400 companies, from SMEs to large global corporations, use our solutions to help protect their organisations.
Biography
iNFRont Magazine is a unique publication providing regular insight on the operational and non-financial risk (NFR) sector. Featuring contributions provided by leading industry figures and experts from around the world, iNFRont Magazine touches on the most critical themes and challenges currently affecting financial professionals.
Available to download for free.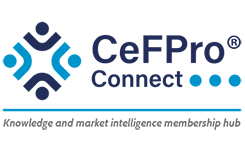 Biography
CeFPro Connect aims to connect industry experts through thought leadership content and timely news, written for the industry, by the industry. Gain unlimited access to CeFPro's unparalleled library of resources including iNFRont Magazine, market intelligence reports, filmed presentations, insights Q&A's, and much more.
Sign up for free.
SHARE YOUR THOUGHT LEADERSHIP
CONNECT WITH SENIOR LEADERS
CAN YOUR ORGANIZATION CONTRIBUTE?
Please contact the Center for Financial Professionals today to discuss how we can deliver your thought-leadership at the event, help you generate leads, and provide you with unique networking and branding opportunities. For more information on what we can offer, please contact chris.simou@cefpro.com or call us on +44 (0) 20 7164 6582 where a member of the team will be happy to tailor the right package for you.
45 Prescot Street
London
E1 8GP
We have secured a preferential rate at the venue for 219.00 inc VAT, based on single occupancy bed and breakfast. Double occupancy will be charged with £20.00 supplement fee.
To book a room please go to the webpage Leonardo Royal Tower Bridge or phone +44 (0) 870 4100 800 for the Reservations team quoting the block code LHCFPA140323
Can I present at the New Generational Operational Risk Europe Summit?
Yes, the Center for Financial Professionals are happy to discuss speaking opportunities at the New Generational Operational Risk Europe Summit. For further information on this please contact alice.kelly@cefpro.com or call us on +44 (0) 20 7164 6582.
Are there any rules on the dress code?
Business attire is requested. The Summit is a formal opportunity to network with like-minded professionals and to gain knowledge from the industry's finest risk management experts.
What is the cost and what is included in the registration fee?
We offer incentives for 'early bird' registrants of the Summit, as outlined on our pricing structure. Registration includes breakfast, refreshment breaks, lunches, the cocktail reception at the end of the day, full access to the sessions and exhibition area. Presentations from sessions are also available, subject to speaker approval.
Where can I find the Summit documentation and speaker presentations?
All registered attendees will receive an email with access to documentation and speaker presentations after the Summit* We will work with our presenters to include as many presentations as possible on our App during the Summit. *Please note that our speakers often have to gain permission from their relevant compliance departments to release their presentations. On rare occasions compliance may not allow presentations to be distributed.
Will breakfast, lunch and refreshment be provided?
Yes. As with all of our events the Center for Financial Professionals will be providing brilliant coffee, breakfast, lunch, refreshments, and smaller bites during the networking breaks.
Will there be opportunities to network with other attendees?
There are ample opportunities for networking and interaction throughout the Summit, such as
Breakfast, lunch and refreshment breaks
Cocktail reception at the end of the day (Subject to confirmation)
Q&A, panel discussions and audience participation technology available through the App
Are there opportunities to share my thought-leadership at the New Generational Operational Risk Europe Summit?
Yes there are plenty of opportunities for the Center for Financial Professionals to share thought-leadership to the attendees of New Generational Operational Risk Europe Summit and our wider risk professionals community. At the event we can distribute your material to the attendees, offer you an exhibition booth, and provide speaking opportunities so that you may enjoy a more prominent presence at the Summit. Visit the Sponsor tab for further information or contact sales@cefpro.com / +44 (0) 207 164 6582.
Are media partnerships available for the New Generational Operational Risk Europe Summit?
Yes. As part of a media partnership we can offer a variety of options to increase the branding and awareness of your association, company, certificate, publication or media. We are flexible with what we can offer however we usually:
Provide a discounted rate to attend
Place your logo and profile on the Summit website
Place your logo on promotional content where applicable
Distribute your media/marketing at the Summit
Promote through social media channels
To discuss this further please contact marketing@cefpro.com or call +44 (0)20 7164 6582
What can I do if I can't attend the event due to COVID-19?
If you are unable to attend the Summit due to national/COVID restrictions, CeFPro would be more than happy to offer you a refund, credit note or the option to transfer the ticket to a colleague who is able to attend.

Representing a financial institution or government body – (E.g. Bank, Insurance company, Asset Manager, Regulator)
£499*
Save £300
until 20 January
£599*
Save £200
until 24 February
Representing an information/service provider (E.g. Consultant, Vendor, Executive Search Firm, Law Firm)
£1199*
Save £600
until 20 January
£1399*
Save £400
until 24 February
* To qualify for the preferential 'early bird' rates, registration must be received by the close of the 'early bird' working day, and payment can be made at the time of registering, or up to a week after registration is made an invoice sent. CeFPro reserves the right to increase rates should payment be delayed significantly. Should a delegate register at a rate that is inaccurate, CeFPro reserves the right to issue an additional invoice for the outstanding amount. All prices are subject to UK VAT, currently at 20%

iNFRont Magazine is CeFPro's unique bi-monthly industry publication. Featuring contributions from practitioners around the world as they address the most critical themes and challenges to take over the operational/non-financial risk sector, forward plan your next move with iNFRont.
Free to download, find out more.
Fintech Leaders is one of the most comprehensive industry led analysis on the status and direction of financial technology implementation. The objective of the research aims to gain a greater insight into fintech whilst assessing the key opportunities, investment priorities, main challenges and benefits, and exploring the road ahead.
Fintech Leaders also serves as a guide on the key solutions providers within the industry and the top players to support institution's fintech needs, as voted for by the industry itself.
Click here to find out more.
As the operational and non-financial risk arena continues to rapidly evolve, expand, and gain significance, Non-Financial Risk (NFR) Leaders strives to provide risk professionals with insights, support, and benchmarks to guide them through the changing risk landscape.
NFR Leaders collates the knowledge of nearly 1,000 non-financial risk professionals to provide a 'voice of the market'. Critical themes addressed within the report include the top non-financial risks, areas attracting the greatest investment, the extent of the Covid-19 pandemic's impact, and much more.
Find out more about NFR Leaders.